We supply all types of sheeting for any job but our signature product is our own AIR 38/1000R.
Manufactured to order right here in our factory we offer the best profile sheeting product at competitive prices.
Uses
When the building process requires the use of heavy duty cladding the AIR 38/1000 is the ideal solution, combining robust construction with an attractive appearance designed to augment the features of any contemporary architecture.
The inherent strength and high impact resistance of this product also allow it to be utilised as a high performance liner tray or decking sheet.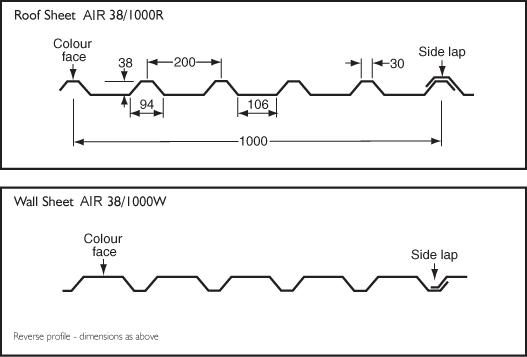 Finishes
The AIR 38/1000 profile is available in both steel and aluminium in various gauges, finishes and colours.
Fire Rating
AIR 38/1000 profiled sheets comply with BS476: Part 7 and Class O in accordance with the current building regulations.
The AIR 38/1000 sheets may be incorporated into a "firewall" giving up to 4 hours protection in an "off the boundary" situation
Fixing
Fixing should commence at the eaves of the roof slope or foot of a wall.
Each sheet should be fixed using a minimum of 3 fasteners per sheet to purlin or rail and not less than 40mm from the end of the sheet. We would recommend one fixing in every trough. If the building is in exposed areas then additional fixings may be required.
Safe Load Tables
(Based on the European recommendations for the design of profiled sheeting).
SITUATION
NOMINAL THICKNESS
SPAN CONDITION
LOAD TYPE

ALLOWABLE LOAD IN kN/m2 FOR
SPANS

1.00
1.25
1.50
1.75
2.00
2.25
2.50
2.75
STEEL TO BSEN 10147:2004 S220G275DZ
ROOF
0.70mm
SINGLE
SUPER
10.18
6.51
3.97
2.50
1.67
1.18
0.86
0.64
WIND UPLIFT
11.63
6.85
3.97
2.50
1.67
1.18
0.86
0.64
DOUBLE
SUPER
10.18
6.51
4.52
3.32
2.54
2.01
1.63
1.35
WIND
UPLIFT
11.63
7.44
5.17
3.80
2.90
2.30
1.86
1.54
MULTI
SUPER
12.72
8.14
5.65
4.15
3.18
2.51
2.04
1.55
WIND UPLIFT
14.54
9.30
6.46
4.75
3.63
2.83
2.06
1.55
You download the datasheet here
Our sheeting can be supplied in a wide range of finishes and colours. For details click here